The Night They Burned Shanghai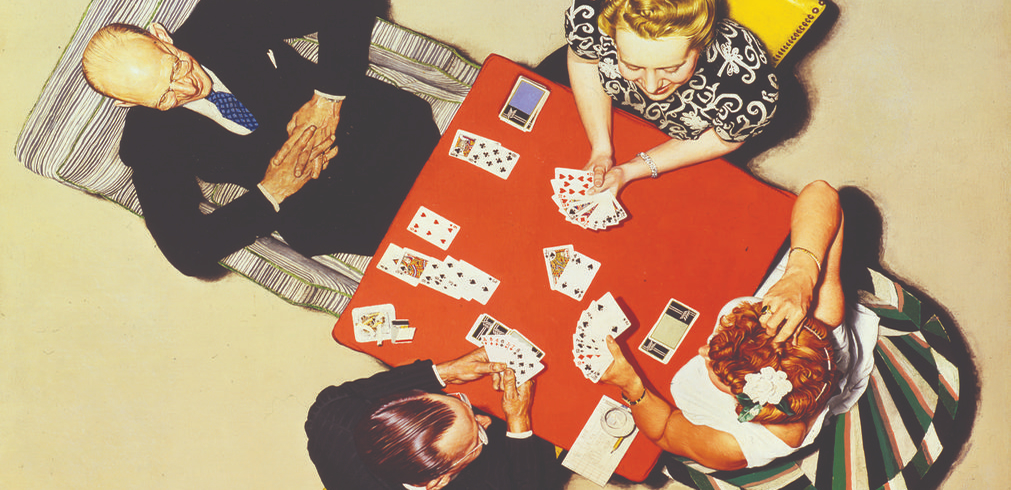 It's hard to find a good, full version of this poem by Robert Abrahams, so I wanted to preserve it here if for no other reason than to make sure I always have a copy.
– – –
THE NIGHT THEY BURNED SHANGHAI
Robert D. Abrahams, 1938
The night they burned Shanghai we had a date,
Bridge with the Watermans in Germantown.
"Now, John, be careful of the game you play;
Don't overbid. Play safe."
"I will, Louise.
Let's not discuss it. I'm not good at cards.
Lord, it's a long way in to Waterman's –
Half Philadelphia's length, if it's an inch.
Why do we have to live near Valley Forge,
If all our dates must be in Germantown?"
(Tonight Shanghai is burning,
Bright Shanghai of the Bund;
The rickshas all are overturned,
The China-hands are stunned.
The curio shops are looted,
The fan-tan games are gone;
The shrieks of haunted children rise,
The bombing planes drone on.)
Darling Louise, but eighteen, then, and slim,
Not thirty-two and card-wise, neighbor-wise.
"Darling Louise," I whispered, "life comes once.
Let's grab it while we can and make it ours.
Bucharest, the band at Parcul Carol
Will play for us alone if we are there;
And Copenhagen – Tivoli at night –
Naples and Athens, Persia, Xanadu,
Adventure everywhere for you and me;
We need not even go so far afield.
Here in this Philadelphia, our frontier,
We'll find stuffed shirts to puncture, work to do,
Dead wood to clear away, great causes ready,
Making to stay at home adventure too.
Adventure shared is most of love, Louise."
(How far is Germantown from Valley Forge?
A bitter march in winter for the troops,
While Tories dance in town with General Howe
And gentlemen sit down at cards and dice,
And wonder when that rabble will give in.
"My dear, I cannot understand this Washington –
A gentleman, at that, to lead revolt.
And what's the latest fashion from abroad?
Pray, who is marrying who, and who is not?")
Then, I remember, "Shanghai, too," I whispered,
"We'll know bright Shanghai of the Bund, Louise.
We'll ride in rickshas down by Soochow Creek
And haggle with the Chinese curio men."
And eager-eyed Louise looked back at me
And answered, "Yes, John, yes, we'll do it all."
I know she meant it, and I meant it too.
(Tonight Shanghai is burning,
The flames are leaping high,
And those who fought or kept the peace,
Alike must drably die.)
"Louise," I say, "we'll never get to Burma,
Or go to Dutch Guiana or Shanghai –
No, not Shanghai; they're burning that tonight;
But yet we've our frontier in Philadelphia.
Next year let's take an interest in the world;
Go into politics, perhaps, or write a book,
Or make a fight for ancient liberties,
Or go adventuring some other way.
But not Shanghai – they're burning that tonight –
And not tonight – we have a date tonight,
And that's the way it always seems to be.
Wait long enough and Shanghai always burns.
Your bridges burn before you, not behind."
(Tonight Shanghai is burning,
The fan-tan games are stilled,
The chips cashed in in blood and gore –
The players all are killed.)
"Isn't it strange, Louise, that up this road
The Continental Army came one day,
Where now we're driving down to Watermans'
To spend a little quiet time at cards?" …
"I think the door's the second on the right."
And Waterman is probably inside,
Setting the folding table up, the chairs.
In every second house in Germantown,
At this particular moment, I believe
You'd find a man unfolding little chairs.
(There was a place I wanted much to see –
Madrid, the place was called – that's burning too –
And Prague and Hankow, going with the rest.)
Well, next year maybe no more bridge, Louise –
Next year adventure right at Valley Forge –
Next year's for living – here is our frontier.
And now we come at last to Watermans';
Our host is waiting pleasantly inside.
"And play a safe game, will you, John, this time?"
Louise says while we park our car.
"I will, Louise, I will."
I know I will.
And after greetings, Waterman exclaims,
"A fine mess in the Far East, boys and girls,"
And we agree, and we sit down to play.
Tonight they burn Shanghai, and we are safe –
Safe from the world and all its puzzles – safe
From everything except our own contempt.
(Tonight Shanghai is burning,
And we are dying too.
What bomb more surely mortal
Than death inside of you?
For some men die by shrapnel,
And some go down in flames,
But most men perish inch by inch,
In play at little games.)